People having more than 5'8 height have their challenges in daily life and their challenges are reasonable as well. In this article, You will read about the best yoga mats even feels like a reality show task to them.
Sometimes it might sound funny when tall people can't fit in the most accessible spaces where every other person can easily fit. But honestly, even ordinary things come in such general sizes that it becomes difficult to find their sizes.
Now imagine doing a yoga pose, and your feet or hands are off the mat. Or you have changed many mats until now, but you still don't fit in those so-called "large mats". This condition is fine until it happens in a yoga class between so many people. Isn't it? 
But don't worry, we have covered you with the real deals. Here, We suggest you the best yoga mats for you that easily fit. 
The Best Yoga Mats For You Are:-
Gorilla Mats Premium Large Yoga Mat
Cambivo Extra Long Yoga Mat
Jade Yoga Harmony Yoga Mat
Yoga Direct Oversized Yoga Mat
Manduka PRO Yoga and Pilates Mat
1.

Gorilla Mats Premium Large Yoga Mat
SIZE- 182×121 cm and 6 mm thick 
WEIGHT- 9 Pounds 
MATERIAL- Ultra-durable Pro Foam 
FEATURES- Good padding and space 
This mat was a must on this list. We can't ignore the fact that it plenty of space provided on the mat. The size surely can fit any 6 feet man easily. This mat is more of an exercise mat rather than a yoga mat. It is the best mat for all the exercises you want to do. 
The padding on the mat is another best part of this. The padding is done correctly to ensure you don't injure yourself while doing your favourite workout. The padding is enough not to let you touch the floor. You don't have to worry about the padding because you can conveniently use it on any floor. 
Interestingly, the mat comes with many accessories to add to the benefits: a Microsoft towel, storage bag, and convenient straps to carry it anywhere comfortably. The storage bag and straps are a plus point for people who like to keep their things in an arrangement after use. While this mat provides a lot of space for your workout, on the other point, it can be easily rolled up and kept in a bag, saving you space. 
2.

Cambivo Extra Long Yoga Mat

SIZE- 84.25×29.92 inches and 6 mm thick 
WEIGHT- 5.082 Pounds 
MATERIAL- PVC
FEATURES- Extra cushioning, portable and durable 
This mat is specially made to suit the height of all tall people. The length and width are perfect for anyone who wants extra space while doing their favourite yoga poses. You can stretch while exercising or doing yoga comfortably without worrying about your feet getting off the mat.
The cushioning is done to fulfil the comfort and stability factors both simultaneously. The extra cushioning can provide proper cushioning while doing yoga without hitting the ground. The cushioning also helps to provide a firm base to keep you steady during your sessions. You can easily stay assured about the stability that this mat will provide you. 
The mat makes sure that there is no pressure on your joints and that you are not injured while practising. You can say goodbyes to your sore elbows and knees with this mat. 
If you are a person searching for yoga mats on which you can also do workouts, then this mat option is for you. This mat comfortably supports Pilates, stretching, squats, lunges, push-ups, planks, meditations, and yoga poses. 
The mat has a unique technology of reverse protruding texture, which helps to get a good grip on any floor and helps the mat from sliding over the surface. This extra-large mat is suitable for home and gym workouts. Along with this, it is easy to store this mat anywhere. You can roll up and keep it or carry it. 
3.

Jade Yoga Harmony Yoga Mat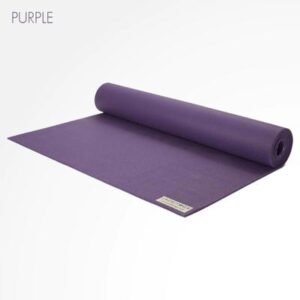 SIZE- 173×60 cm and 5 mm thick 
WEIGHT- 4.3 lbs 
MATERIAL- Rubber 
FEATURES- Sustainable 
This mat will prove itself to be one of your favorites as well. This mat will surely fit your height and make you feel comfortable during yoga and workout sessions. This mat is made from naturally sourced tree rubber. No kind of PVC, EVA, or synthetic rubber is used to make this mat. 
This mat surely qualifies to be in the good books of environment lovers. If you also wish to plant a tree without doing anything, this is great for you. The company promises to plant one tree for every mat they sell.
The mat has a good amount of traction and stability, so you can comfortably do your workouts without worrying about slipping down. This mat will make sure you are not injured during your workout sessions. 
The traction and stability of this mat help make the mat stick to the surface and let it move unnecessarily, and the range of this Jade mat is available in attractive colors. This mat is a perfect choice indeed.
4.

Yoga Direct Oversized Yoga Mat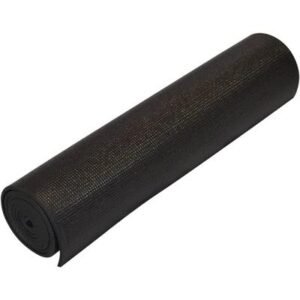 SIZE- 84×36 inches and 6.25 mm thick 
WEIGHT- 6 pounds 
MATERIAL- Foam
FEATURES- Portable 
This oversized mat stands on the name of its feature of its being oversized. It can surely fit any person of any size. People with 6 inches can easily stay assured about their feet not getting off the mat. The mat is large than most of the mats available on the market.
It has an impressive size that fits and has a good texture and material. The material makes sure that the mat does not slip away. It stays on the floor and provides a good grip on your body on the mat during a workout.
This mat suits all workout setups. You can use it at home, in gyms and studios or wherever you want. You will surely love doing workouts and yoga on this mat. The portability of this mat also can not be questioned. It is easy to roll and store. 
 5. Manduka PRO Yoga and Pilates Mat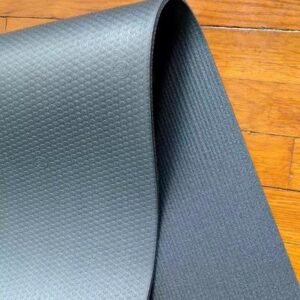 SIZE- 85×26 inches and 6 mm thick 
WEIGHT- 9.30 pounds 
MATERIAL- Polyvinyl Chloride 
FEATURES- Good cushioning and density 
Apart from having excellent dimensions, this mat also has great quality. The brand entirely fulfils its promise to provide good quality yoga mats with all the requirements.
The closed cell prevents this mat from absorbing sweat. This anti-absorbent feature helps the mat cushioning not get wet even if you are a sweaty person. This cushioning also helps to prevent getting sore knees while working out. It is a perfect partner for your sore knees. 
The grip feels fantastic. The best yoga mats for tall men will help you properly hold on to the poses without falling or injuring yourself. The grip quality gets better with every use. So it is a must for your workout sessions. 
Read Related Article:-
5 Best Yoga Mats For Gym to Suit Your Gym Routine
Related Stories