As the name suggests, the best yoga mat for home workout are designed as yoga accessories/equipment. But it is not at all necessary for you to be a yoga freak to buy yoga mats. Moreover, there can be so many other uses for the mats. 
It may sound like brand new information for many people, but this is true. Yoga mats were surely designed to support your yoga poses but can be used in many different ways today.
Apart from yoga, mats can be exclusively used for pilates, squats, stretching, crunches, planks, and many other core-based and mat-based exercises.
The market supply has also increased due to the varieties of the best yoga mats available nowadays. The variety of ranges in the mats is also specifically created because of the features these mats hold. 
You can easily find mats with moisture-absorbing technology, odor control, better grips, alignments for better postures, countless designs, patterns, color options, enhanced texture, environment-friendly material, etc. 
It is as clear as glass now that the range of mats available is surely very vast. And choosing "the best" for yourself is very difficult.
The Best 7 Yoga Mat for Home Workout
To help you choose the best yoga mat , we have shortlisted some yoga mats for your home workout routine, from which you can choose your favorite. 
1.

High-Density Anti Tear Exercise Yoga Mat
SIZE- 173×60 cm and 1/2 inch thick 
WEIGHT- 2.2 pounds 
MATERIAL- PVC 
FEATURES- Pocket-friendly and portable 
This mat is one of the best pocket-friendly options and tops our list. Apart from being a pocket-friendly option, this yoga mat also has great features. 
This mat is double-sided and has a non-slippery surface. So if you are lazy, you can use the other side when one side gets dirty without worrying about the grip and slipping down. 
Additionally, this mat is made for you if you are a sweaty person. The moisture lock technology helps absorb all the sweat and will make sure not to let you slip. 
It is also very portable and has a strap to carry it easily. The thickness is very less but has a good foam material used in it, which will ensure that you don't injure yourself while working out. 
This mat is easy to clean as well. It is also one of the light-weighted yoga mats present on the market. 
2.

Lululemon the Reversible (Un) Mat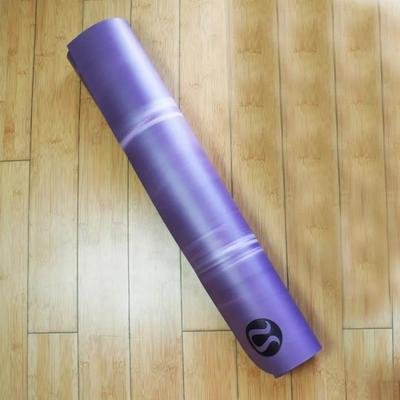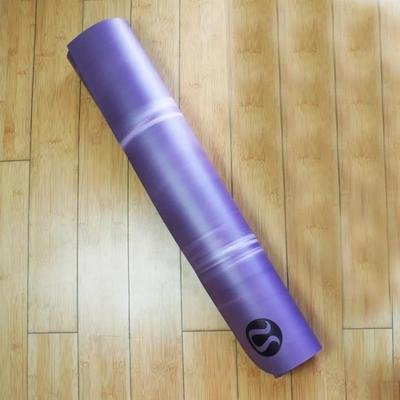 SIZE- 183×66 cm and 1.5 mm thick 
WEIGHT- 2 lbs
MATERIAL- Polyurethane
FEATURES- Lightweight and portable
This one is the best yoga mat for home workout very light-weighted and can be easily carried anywhere. This mat is very portable and can fit any 6 feet man easily, and the dimensions of this mat make sure to fit any person comfortably. 
You will have to compromise on the cushioning a bit but can rely on the moisture-absorbing technology of this mat. The material of this mat won't let create extra moisture on the mat surface.
So even if you are a sweaty person, you won't slip over on this mat while working out. It also has an antibacterial material, so you will always stay healthy with this mat.
It also has great durability and is very portable. Moreover, this mat can be carried while traveling easily. 
3.
Non-slip Eco Friendly Exercise Yoga Mat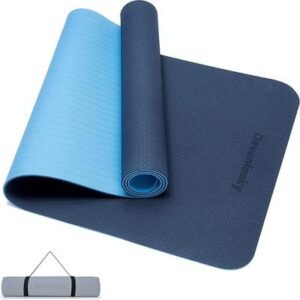 PRODUSCT DIMENSION- 72″L x 24″W x 0.23″Th
WEIGHT- 1.76 Pounds
MATERIAL- Thermoplastic Elastomers
FEATURES- Lightweight and Easy Care
This yoga mat for home workout is one of the best choices for people trying to find light-weighted options. You can easily carry this mat anywhere, and the strap that comes with it also adds to the portability factor. 
It also has good dimensions with cushioning, ensuring your yoga sessions are comfortable and you don't get sore knees while working on these mats. 
The proper cushioning on the surface also provides a non-slippery and better grip on the poses and the mat. 
It has alignment makers to guarantee perfect poses while working out on it. We all know alignment makers on yoga mats help create a stabilized base on the mat and proper body positioning. 
This mat can be easily cleaned and is a good example of an eco-friendly product. 
4.

Retrospec Solana Yoga Mat

SIZE – 183×61 cm and 1 inch thick 
WEIGHT – 1 kg
MATERIAL – Foam
FEATURES – Better Cushioning 
The ½ extra cushioning on the mat makes it ideal for knee and joint support. This mat has extra cushioning, which other mats don't provide. You will surely love your extra cushion and balance with this mat.
The phthalate-free surface provides for a very good grip. Along with that, the surface is non-slippery. This mat will keep you steady and balanced while doing your workout. Additionally, this helps to reduce the probability of any injury.
This mat doesn't have any latex, phthalate, or heavy metal, making it a safer option for you. Along with this, it is very easy to clean the mat. 
5.

Yoga Design Lab The Infinity Mat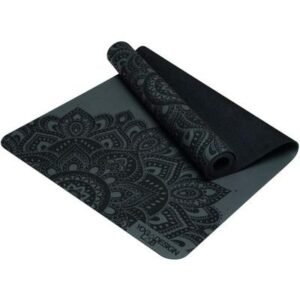 SIZE- 180×61 cm and 0.2 inch thick 
WEIGHT – 2.81 kg
MATERIAL – Polyurethane and Rubber 
FEATURES – Durability and grip 
The mat is made of naturally sourced tree rubber, which gives it a strong grip and durability. This mat also has a good cushioning, giving it its non-slippery property.
The non-slippery feature allows you to do your workout with comfort. You can easily do your favorite workout sessions on this mat without worrying about slipping over. This mat gives both wet and dry grip to trust the grip of this mat. 
It is very convenient to wash and dry the mat, and you can easily clean it with a damp cloth with water and soap. 
The mat comes in beautiful mandala designs with a strap, so now you can easily carry your beautiful mat anywhere with comfort. 
6.
Jade Yoga Harmony
 Home Exercise Mat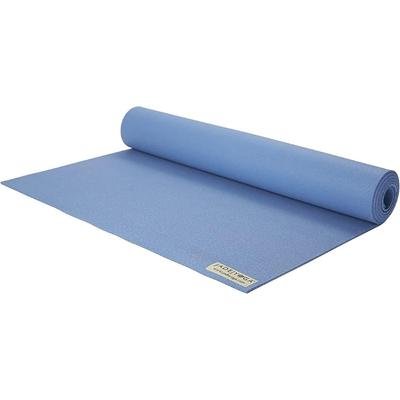 PRODUSCT DIMENSION – 68″L x 24″W x 0.19″Th
WEIGHT- 3.5 Pounds
MATERIAL – Natural Rubber 
FEATURES – Durable & Thick 
This mat is made from naturally sourced tree rubber. No kind of PVC, EVA, or synthetic rubber is used to make this mat. So this qualifies to be in the good books of environment lovers. The company impresses with its policy of planting one tree for every mat sold. 
The mat has good traction and stability, so you comfortably do your workouts without worrying about slipping down. 
This mat's traction and stability help make the mat stick to the surface and let it move unnecessarily. 
This range of Jade mats is available in attractive colors.
7.

Gorilla Mats Premium Large Exercise Mat

 
SIZE- 7′ x 5′ x 8mm
WEIGHT- 9 Pounds 
MATERIAL- Ultra-durable Pro Foam 
FEATURES- Extra thick and comfortable
This mat is more of an exercising mat rather than a yoga mat. But due to the plenty of space provided on the mat, we had to add this to the list. It is the best mat for all the exercises you want to do. 
The padding on the mat is another best part of this. This is done properly to ensure you don't injure yourself while doing your favorite workout. 
The padding is enough not to let you touch the floor. You don't have to worry about the padding too much, as you can conveniently use it on any floor. 
Interestingly, the mat comes with many accessories to add to the benefits: a Microsoft towel, storage bag, and convenient straps to carry it anywhere comfortably.
The storage bag and straps are a plus point for people who like to keep their things in an arrangement after use. While at one point, this mat provides a lot of space for your workout, at the other point, it can be easily rolled up and kept in a bag, saving your space. 
List of Things to Check in Your Yoga Mat 
The mat should have enough space for you to do your workout comfortably.

The cushioning or the padding should be done properly to save yourself from any injury or knee soreness.

It should not smell like chemicals. Moreover, it should be odor free for a better workout experience.

The grip should be good. If you don't want to hurt yourself, you should look for a good grip on your mat.

Stability is also a must. It should provide grip to your body and the mat to stay in place while working out.'

It should be easy to clean after use.
Also Check Out