Do you love the flexibility and cardio benefits of yoga, but find that traditional mats are too difficult to move around? If so, check out our yoga mats for exercise. Fitness is an essential part of our lives. But it is surprising how we don't pay appropriate attention to it. Half the problems arise due to our lack of ability to follow a proper healthy lifestyle, and the other half arise due to the lack of motivation to do anything about it.
But we should not ignore the fact that we are the only ones responsible for our good health, and we can always start from scratch and practice yoga and do exercise every day. These two are the easiest options to get your unhealthy life on track. It does take time to show results, but this is a trusted process. 
We all know about thousands of yoga mats present in the market. And every mat has its purpose and features. Some have handles and straps attached to them to be carried easily, and some come in small sizes to properly fit 4-year-olds feet. 
Additionally, nowadays, we can even see different prints and designs on the mats to enhance the looks. Some mats even come with sweat-absorbing properties and are anti-slippery. 
Similarly, there are yoga mats in the markets, which are ideal choices for workouts and exercises. But we are always stuck on how and where to get one. 
So let's lessen the confusion and jump onto some of the best options for yoga mats for exercising. 
5 Best Yoga Mats for Exercise You Can Buy
Yogi Bare Paws Yoga Exercise Mat
Aloyoga Warrior Yoga Mat
With Every Atom Natural Rubber Yoga Mat
Manduka Prolite Yoga Mat
Sweaty Betty Super Grip Yoga Ma

t
Yogi Bare Paws Yoga Exercise Mat
 
SIZE- 180×66 cm and 4 mm thick 
WEIGHT- 2.5 KG
MATERIAL- Polyurethane and rubber 
FEATURES- Good grip and alignment makers 
One of the best features of this yoga mat is its good grip, which will make sure not to let you slip while you are doing your favorite poses. The slip resistance of this mat will also especially help you when you are soaked in sweat from head to toe.
The alignment makers on the mat are another reason to buy this mat. These alignment makers will help you get those 10/10 poses in a single go. 
Some other impressive features of this mat are biodegradable, made of fully sustainable material, and will surely be a good friend of vegan people. This mat is a great option for all the environment lover influencers who love to follow a fit and healthy lifestyle.
It will stick and support all types of floors and will make sure to let you slip anytime. 
Yoga Warrior Yoga Mats for Exercise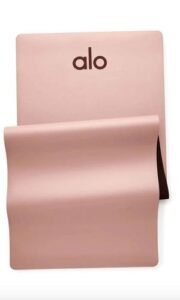 SIZE – 189×67 cm and 5 mm thick
WEIGHT- 3.62 kg
MATERIAL – Polyurethane leather and rubber 
FEATURES – Portable and adaptable 
It has a great ability to absorb sweat and anti-odor, which can easily impress any hygiene and cleanliness freak. It is PVC and toxin-free, which also marks its environment-friendly criteria. 
Its luxe, matte finish, and good cushioning help you stay on the mat comfortably and not slip over. It has a perfect size, so there won't be any complaints about the fit. It has a good grip and thickness to support your body while doing tough poses.
The best part about this mat is the tight coiling up after rolling up. So now you can even carry it anywhere and anytime, and it can also dry up easily after every use.
With Every Atom Natural Rubber Yoga Mat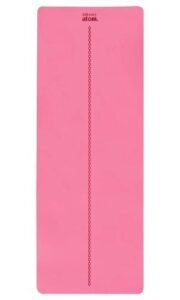 SIZE- 183×68 cm and 5 mm thick 
WEIGHT- 2.5 kg
MATERIAL- Polyurethane and tree rubber 
FEATURES- Best grip
Apart from having a unique alignment design on the front of the mat, it also has a great grip feature. It surely has a non-slippery material, but surprisingly, its grip gets even better after getting wet. So if you have a sweatier body like many of us, you can surely choose this, as it is a great option.
It surely has a little bit extra weight from the other mats so that you can take it anywhere. But it surely impresses us with the stability and flatness that it holds. The extra size of the mat gives extra space for doing all kinds of poses perfectly. 
It is also free from toxins and phthalates to make their way into your good books. They have many color options, so you don't need to worry about your favorite color. 
Manduka Prolite Yoga Mats for Exercise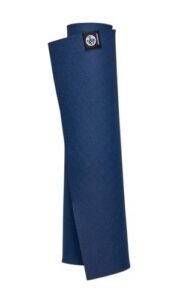 SIZE- 180×60 cm and 4.7 mm thick 
WEIGHT- 1.8 kg
MATERIAL- Rubber 
FEATURES- Fabric-like surface 
The surface is latex-free and has a fabric-like surface. The closed-cell material helps prevent sweat and moisture from locking in the mat. 
The cushioning of the mat is so good that you will fall in love with your yoga mat. This cushioning helps keep your body comfortably on the mat without injury or soreness. 
The cushioning also gives support and stability to your body while doing yoga, so you won't just slip down. It is easy to clean as well. This mat comes in a variety of colors. 
Sweaty Betty Super Grip Yoga Mats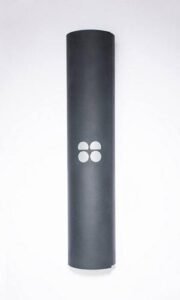 SIZE- 182×60 cm and 0.15 mm thick 
WEIGHT- –
MATERIAL- Natural latex 
FEATURES- Good grip and sustainable  
The grip of the mat will surely not disappoint you in any case. This mat is a great option if you love to do a full energy-packed workout. When we talk about the grip, we should also include that it would slip away between your sessions.
The cushioning will also help you to stabilize your body while working out. It is well-designed and won't disappoint you in that same category. Although the strong stickiness also attracts a lot of dirt, it is very easy to keep it clean and hygienic by cleaning it regularly. 
How to Choose the Best Yoga Mats for Exercise
It would help if you always considered important things while choosing a yoga mat for yourself, such as. Cost, size, sustainability, odor-free and moisture lock, grip and slip-free, stability, material, and thickness.
The size and thickness can always vary from person to person. Some people may need some extra centimeters in their mats, and some might be comfortable with the usual size of the mats.
The same goes for cushioning. However, extra cushioning can help you prevent soreness and injuries while doing yoga, and it is more comfortable to work out with better cushioning on your mat. But it would help if you did not forget that extra cushioning always adds to the extra weight. 
A good grip mat can help you ensure that you will not slip down while working out. The grip also ensures that the mat will stick to its place while practicing your favorite poses.