Here we talk about Yoga mat for travel. If you're looking for a comfortable and safe way to stay active while on your travels, then a Yoga mat is the perfect solution. Not only is a yoga mat comfortable to stand on, but it also absorbs shock and provides cushioning for your knees and feet.
Yoga is a great way to reduce stress and improve flexibility, both of which are crucial for travel. Not only is it a great way to relax in between trips, but it can also help you stay healthy while on the go. If you're looking for a portable yoga mat that you can take with you on your travels, we've got the perfect one for you. It's lightweight and compact, so it's easy to transport and store, and it's also easy to use – just unfold it and start practicing! So whether you're planning a trip to Asia or just want to stay fit while away from home, this yoga mat will be perfect for you!
But HOW??
Won't it add to your already extra stuffed luggage bags? 
Won't it get chaotic and uncomfortable to carry such things with you while traveling? 
Are you confused? 
Hold on; we have sorted this situation for you as we have listed down some Portable yoga mats that can be carried with you while traveling and won't add much of a burden for you.
5

Best Yoga Mats You Can Carry While Traveling.

So if you have finally decided to practice Yoga regularly while traveling to your favorite destinations, you are at the right place. 
1.

Ultralight Travel Yoga Mat

The built-in strap and handle were the catch here, making it the best choice for traveling. Who doesn't want a handle for stuff while pulling down all the luggage bags? 
The compact structure doesn't need much space to occupy, and it is so compact that it looks like the size of an Aluminium foil roll. So you can open it, use it, roll it back, and keep it in your bag. And it can be washed under tap water whenever needed.
The surface is smooth and has a good grip. It is made up of renewable tree rubber, making it an excellent eco-friendly product from all the edges. It weights around 2.1 pounds and has a 1.1 mm thickness. 
All these features have surely impressed us, and we hope they can impress you too. Check Yoga for better deals on the mat. 
2.

Gaiam Folding Yoga Mat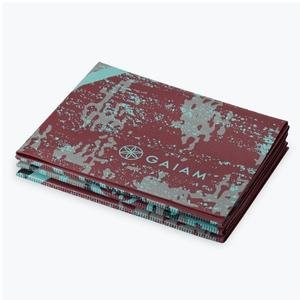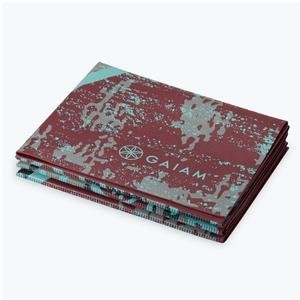 If you are obsessed with keeping things in a pile and making that pile look good, then this mat is for you. It looks like a scrapbook when folded. After folding, it reduces to a 10″ -12″ rectangle and gives a cool look from the top. The portability indeed can not be questioned here. 
It weighs around 1 pound (very light and comfortable) with a 2mm thickness. The mat can easily fit in any duffle bag or even your kids' luggage bags, and it can be cleaned with a cloth dampened with cold water.
The mat is PVC and has a sticky texture for a stable "footing on the go." The grip on the mats is impressive, so now, no worries about slipping over while practicing your poses. 
Check out on FLIPKART for deals on this super amazing-looking yoga mat. 
3.

Manduka Black Sage Green Travel Yoga Mat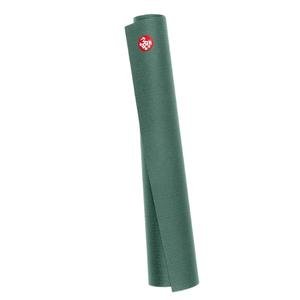 This one has some fantastic features like good cushioning, foldable, lightweight, portable, and suitable dimensions for a better fit.
The foldability makes it the best choice for carrying it while traveling. It weighs around 2.7 pounds making it easy to move anywhere without discomfort. So now you don't have to worry about taking your yoga mat with you.
The texture and the surface of the mat will make you fall in love with the Yoga and the mat. You will easily glide into the different poses without injuring yourself anywhere.
You can buy this on Amazon. 
4.

SKL Travel Yoga Mat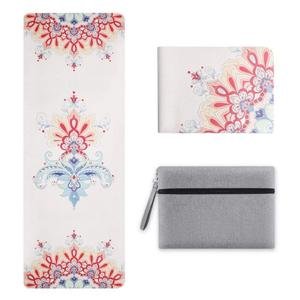 This one is a real deal because it can easily fit your budget. The yoga mat is 71″ x 26″ in length and width and 1/16″ in thickness, so you surely tick off your portability factor on the list. 
Adding on to the convenience, it comes with a beautiful bag, which can be used to keep this mat. Apart from this, the mat is super handy and can be easily foldable. 
It also has an excellent grip, so you need to worry about slipping over. Even if you sweat a lot, you will not slip; this mat will soak all the sweat, leaving no traces. You can wash these mats in your regular washing machines.
You can buy them on Amazon. 
5.

MIKKOA Best Travel Mat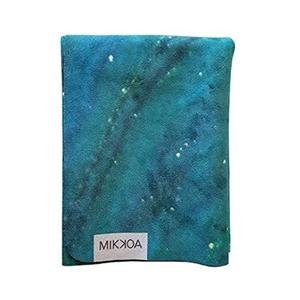 Last on our list is this fantastic yoga mat by MIKKOA, which can be used both as a yoga mat and a towel. This mat is undoubtedly one of the most beautiful yoga mats. 
It weighs only 2 pounds so that you can carry them anytime, anywhere. This mat is 10 cm longer than any regular mat, and this is so compact that it won't take up any space in your bag. 
The mat's material gives it a non-slippery surface for a smoother grip on the surface. Additionally, this mat leaves no creases even after folding it in many ways. 
We are sure you will fall in love with the unique prints available on their website. 
This list will end your "search operation" for the best yoga mats for traveling.  
YOGO Ultralight Travel Yoga Mat

Gaiam Folding Yoga Mat

 

Manduka Pro Travel Yoga Mat 

SKL Travel Yoga Mat 

MIKKAO Best Travel Mat 
Conclusion
Yoga is one of the most versatile and beneficial exercises you can do, regardless of where you are in the world. Our yoga mats are perfect for travel, as they are lightweight and compact, making them easy to carry around. Whether you're on the go for a quick yoga session at a hotel room, or planning a longer trip and want to take your practice with you, our mats are the perfect solution! Keep calm and enjoy your yoga practice wherever you go!