Cross-country skiing is one of those sports which uses almost all of the muscles in your body. It means this needs prior exercise to train your muscles to open up for all the work they have to do. You can't ignore that you will use your arms and lower body the most (Legs). So it would help if you had core strengthening exercises before starting your cross-country routine. 
You must follow a proper warm-up and exercise schedule for this—a schedule that mentions how and what exercises you should specifically choose for this purpose. You can always go for expert advice in this case. Your trainer can suggest good exercises that suit your body type and health factors. 
But how should you start? 
Strength Training For Cross-Country Skiing 
Before you start your cross-country skiing routine, take your time to follow a properly planned warm-up schedule. This schedule can include some basic warming-up. You don't have to do a lot of things for your warm-up. You can go on a brisk walk or jogging for 5-10 minutes. 
Warming up helps to prepare your body for the upcoming workout session. This step will help loosen up your muscles to do workout sessions focusing on strengthening them.
It also reduces the possibility of getting hurt while working out. As all your muscles are already flexed enough to stretch in any way, it will reduce the probability of your muscles getting stiff while working out.
Your warming-up sessions should be elementary. It can include skiing rope, brisk walking, jogging, jumping jacks, lunges, or simply stretching your muscles. Make sure you can feel the losing up of your muscles before working out. 
Exercises for Cross-country Skiing
1.

Deadlift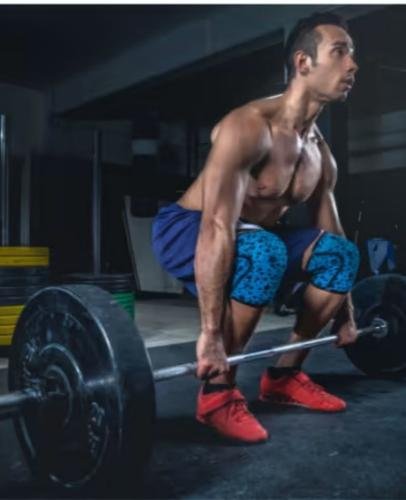 This exercise is going to make sure that all your muscles are engaged. All your muscle groups openly contribute. The crucial regions affected are:
The quadriceps of the thighs.

Gluteals of the hips.

The erector spinae of the back. 
The hips' gluteals help push the body forward during skiing. At the same time, the erector spinae of the back helps to keep the body stable and provides support during the leaning position of skiing. 
2.

Planks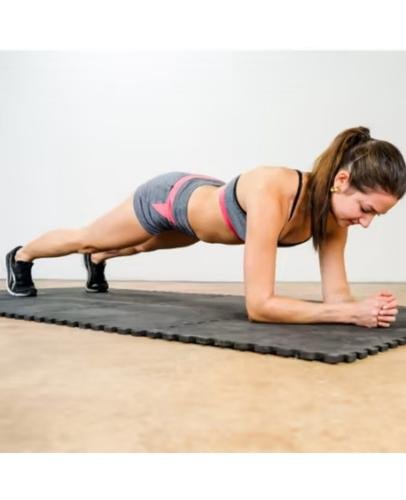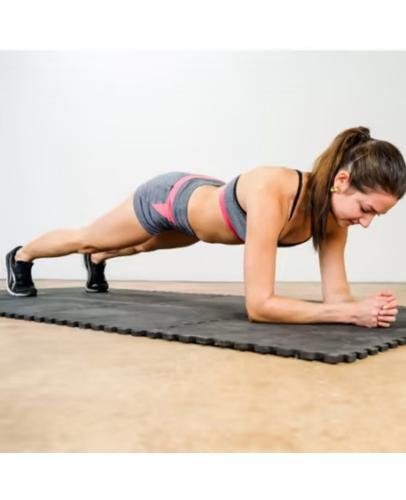 This exercise is going to engage many muscles of your body. The important affected region of the body is the rectus abdominal muscle of the abdomen. 
This rectus abdominous muscle, together with the erector spinae helps to keep your body stable while skiing. This exercise strengthens this region of your body to give your proper support. 
Working on this area is essential to get better stability while skiing. Better stability means better actions of your arms and legs for pushing you forward without applying any extra cent of energy and force.
3.

Side Squad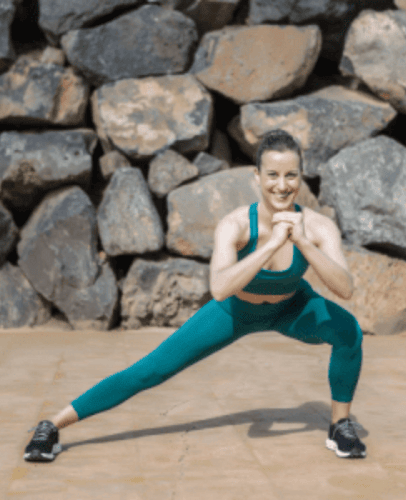 This exercise focuses explicitly on the gluteals and quads. This exercise will train your body the same way your body acts during skiing. 
The exercise works differently by developing power in short motions with the help of push-ups. This exercise will strengthen your lower body for moving forward while skiing.
Exercising Machines For Cross-Country Skiing
This exercise machines strengthen the upper and lower body, focusing on specific muscles. These muscles help you to better your skiing skills. 
Not only this, these exercises can help you burn calories and lose weight quickly. It only benefits people trying to prepare themselves for cross-country skiing but can also benefit people trying to achieve a total body result with a few exercises. 
These exercises can even help you better your coordination of bodily movements, balance, cardiovascular health, endurance, and back issues. So this is a wholesome exercise routine to benefit your body. 
Are you still thinking about which exercise machines to choose to start your "wholesome cross-country machine routine"? 
Don't worry; we have covered you with some available exercise machines for cross-country skiing. 
1.

Oversized Treadmill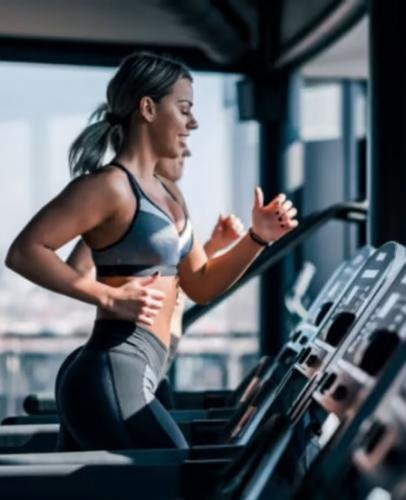 Check Price on Amazon
This equipment may sound a bit complicated and can terrify you a little, but this machine is as simple as a regular treadmill. You can run on it as you do on a treadmill. 
This machine can be understood as a mini and gym-friendly version of a real-life skiing experience. You can practice by throwing on roller skiers, grabbing their polls, and practicing skiing like cross country skiing. This equipment can help you by benefitting with cardio and endurance without actually going on skiing. 
Professional cross country skiing olympics skiers are made to run on these machines to test their endurance and VO2 levels. Cross-country and nomadic skiers run 15-20 hours a week for endurance and cardio training. 
They have oxygen tanks at the side of the machines so that athletes can modify the settings of the oxygen tanks according to their needs. This feature helps them to train at different elevations. 
This equipment is an excellent choice in exercising machines for training yourself for cross country skiing. 
2.

Prebounder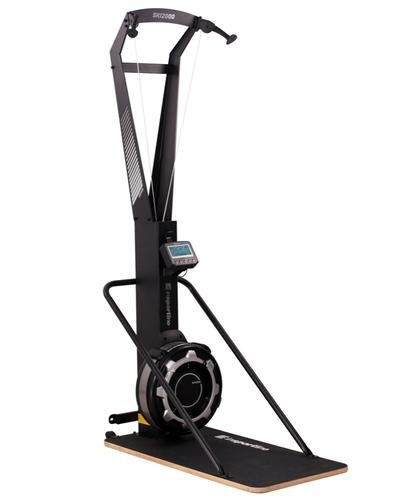 Check Price on Flipkart
This machine is an excellent choice for people returning after an injury. This can helps athletes in training after an injury. This machine is designed to put less pressure on your joints. 
It simply helps guide your muscles to jump without putting a lot of pressure on your joints. 
You should follow the steps to get the right results from it. You have to step on the platform after it has been raised. Then stand with your feet shoulder-width apart. 
After this, the platform is pumped up and down using all your core muscles and legs, and hips. All this should be done while maintaining an upright position to avoid injuring yourself. 
This exercise machine's results will help you when you are on the slopes. This equipment will help muscles learn to stabilize legs and hips for all the jumping sections of your skiing. 
3.

Alton Eccentric Leg Press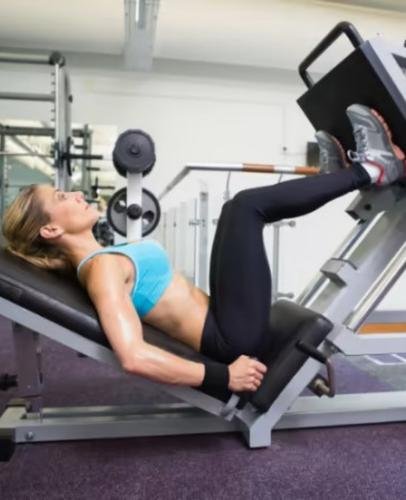 Check Price on Amazon
This machine helps train your legs to take and endure the required force while skiing. The legs have to do a lot of work while skiing. They must endure all the force while doing downhill turns and landing jumps. This machine helps you train your body for all the hard work you will do while skiing. 
The main focus is strengthening the leg muscles, which is essential for the lowering position held during skiing. The machine can control the weight, which helps a person put half pressure. But it is the opposite while going down, as you have to hold on to the pressure ultimately. 
This machine trains you to balance and handle the turns on the sharp slopes. 
4.

METIS Fury Ski Exercise Machine
Check Price on Flipkart
This machine has an effortless assembling feature, so you can easily set up this ski machine endurance equipment at your home. It is a great indoor equipment option and is also user-friendly. 
It has an easy-to-use blue backlit display monitor to check your workout progress for your cross-country skiing routine. This machine comes with 10 adjustable resistance levels. You can regulate these levels according to your requirements.
This machine is designed with ergonomic strapless handles to give you a perfect grip on the equipment. The aluminum frame and stainless steel chain give outstanding durability to the machine. 
This elliptical trainer cardio equipment can suit any person easily. This machine will give many benefits, whether you are a beginner or a regular skier. 
You can check out this amazing machine on Flipkart. 
5.

Sunny Health and Fitness Magnetic Rowing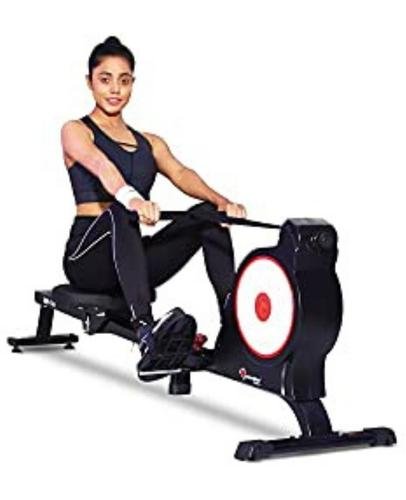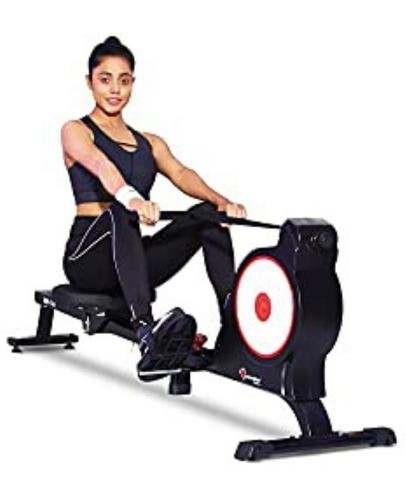 Check Price on Amazon
This machine comes with an attractive LED console that displays time, count, calories, total count, and scan. The scan feature can help you assist your progress during your workout. 
This machine can accommodate any person easily due to the size of 48″ in slide rail length and 44″ in inseam length. 
Even the pedals are non-textured to ensure you can make safe footing during all your heavy workout sessions. The foot straps will help keep your feet stable to focus on your workout correctly. 
Check out this product on Amazon to get outstanding deals. 
6.

Maxi Climber Vertical Climber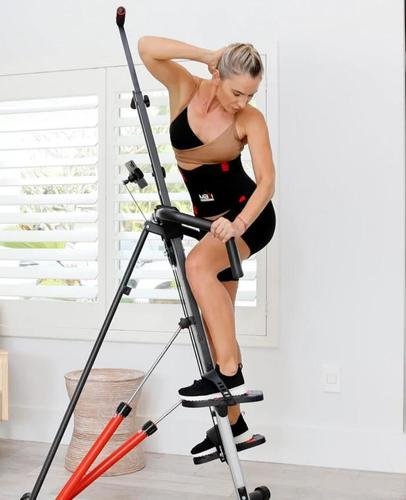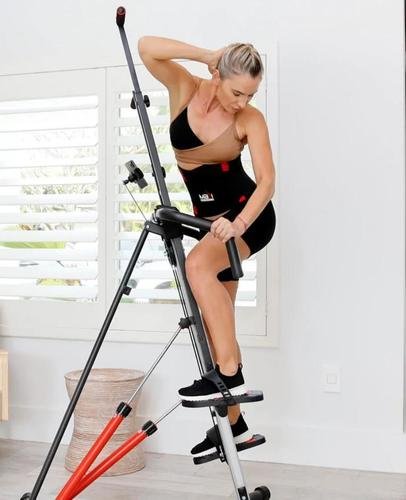 Check Price on Flipkart
This machine is very versatile and has an easy-to-use climber. The climber can work on any fitness level. It also comes with a bonus companion fitness app for better guidance for the workout.
This machine can ensure a full-body workout for you. It will ensure that you have calorie-burning cardio combined with a muscle-toning session. You need not worry about your knees and ankles during the workout sessions on this machine. 
It is so portable that you can even assemble it quickly and store it. It is lightweight, has an adjustable height feature, and is easy to set up. So now no need to run to your gym to work out on different machines. This machine is an excellent option for a wholesome result.
Check out this exercise machine on Flipkart. 
Related Stories